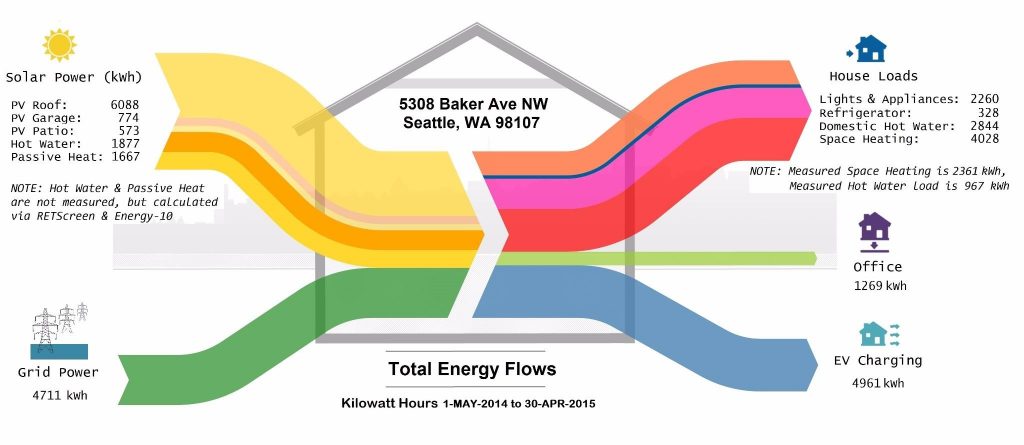 Our house, is a very very fine house…with three hens in the yard…life used to be so hard…
It's really so much easier being green. If you ponder it, what is convenient about having to stop at a gas station, or about having hot and cold spots in your house? Is it convenient to pay increasing energy bills with not much to show for it? How about mowing a lawn that just has to be mowed again and again?
At our house the sun does a lot of work for us. It heats our water and the house, powers everything in the house, and grows a lot of fruits and vegetables around the house. Need some salad? Just step outside. How about fuel for the car? Just plug it in. We have saved about 200 hours not pumping gas since we started driving electric in 2006.
The house energy systems run themselves, with a small amount of human involvement. Worms and grubs eat our food waste, the chickens eat the worms and grubs, and the garden gets composted manure. Need eggs? Just step outside. I never have understood all the whining from certain political factions about LED light bulbs. Why would they want the trouble of replacing an incandescent light bulb 5 times instead of replacing it with an LED once?
Living green turns out to be no trouble at all. Puget Sound Solar can help you with the solar part. If you would like more detail about how we turned our 107-year-old house into a zero-energy home, let us know. We can answer your questions, and we do tours in the spring and fall.