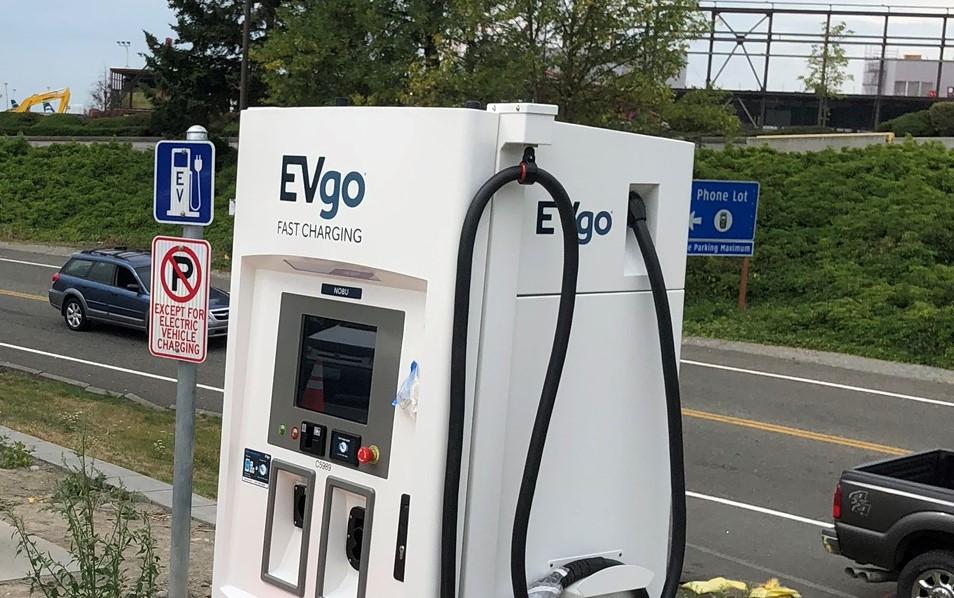 EV Support, a division of Puget Sound Solar just installed two electric vehicle DC fast charging stations for EVgo and Washington's State Department of Transportation at the SeaTac cell phone (waiting) lot. Now, when you go to the airport, you can easily DC fast charge your electric vehicle while waiting for your family or friends to arrive. With DC fast charging, in about 30 minutes, EV drivers can add about 90 miles of range.
This project is part of the Electric Vehicle Infrastructure Partnerships Program installing the West Coast Electric Highway and this project was managed by Forth.
There's a lot involved with installing industrial quality EV stations, including design and engineering work; trenching electrical supply lines; pouring concrete pads; lifting and placing the EV stations which weigh 1250 pounds each; making the electrical connections; configuring the software and finally, commissioning the system.
Here's a few action shots from the install –
More and more EV charging infrastructure is being added as electric vehicles become more mainstream and we're excited to be part of the solution for electrifying our transportation system.
Cars that have DC fast charging capability include : Tesla Model 3, BMW i3, Chevy Bolt, Chevy Spark, Nissan LEAF, Ford Focus Electric, Hyundai Ioniq, Karma Revera, Kia Soul, Mitsubishi i-MiEV, Tesla Model S, Tesla X, Toyota Rav4 and the Volkswagen e-Golf.
Check out EVgo here – https://www.evgo.com/
Learn more about this WSDOT project and others like it here – https://www.wsdot.wa.gov/Funding/Partners/EVIB.htm
Learn more about Forth here – https://forthmobility.org/