Winter storms are wreaking havoc across the US, causing electrical outages and misery for millions. As climate change impacts increase, the intensity and frequency of these adverse weather events are increasing. Our thoughts go out to those impacted by the current storms.
Texas and its unique electrical grid has been especially vulnerable to the current winter storm with more than 4,000,000 people losing electricity.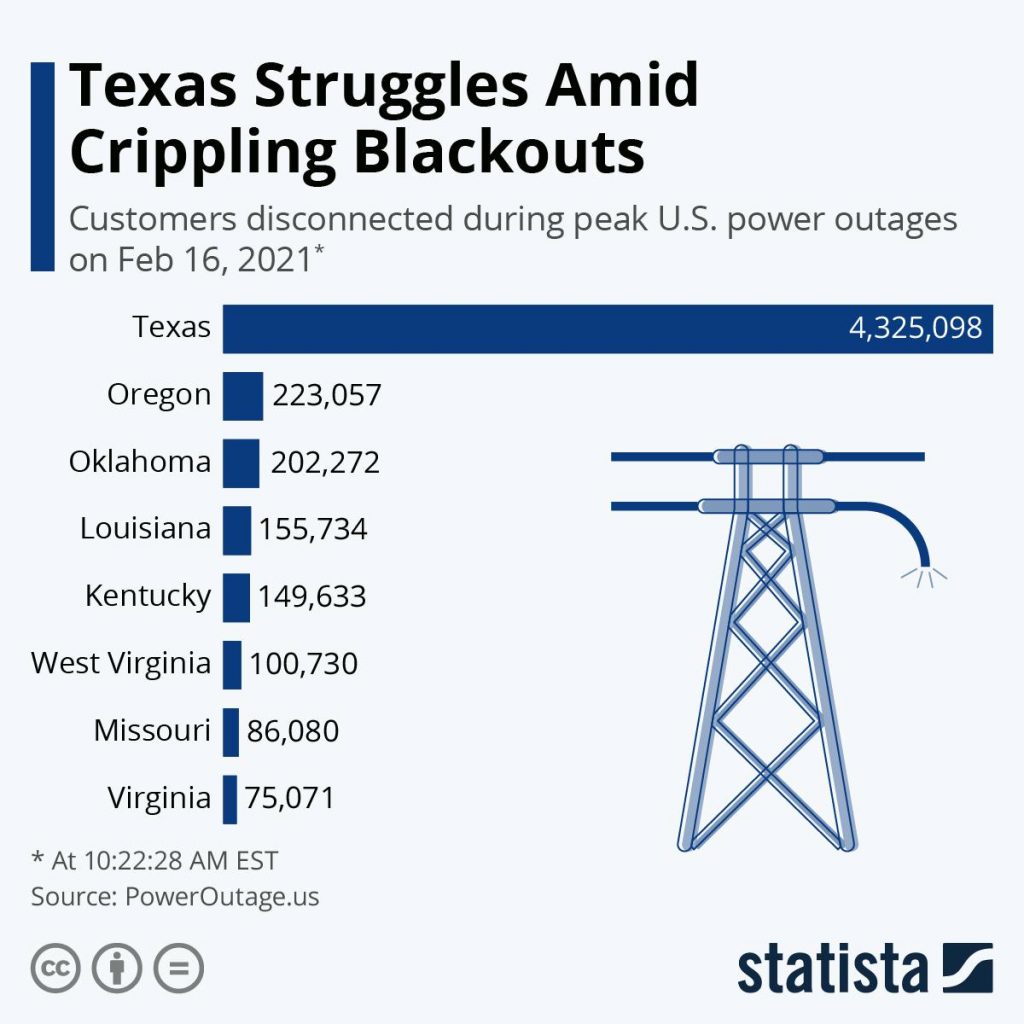 There are several reasons why so many people are suffering and will continue to suffer with these storms, but one major reason is the overdependence upon a centralized electrical grid model – one where electricity is generated and sent long distances over power lines that can be damaged during severe weather events.
This powerful winter storm again highlights the need to shift to a decentralized electrical grid, one that is less vulnerable and more resilient to severe weather events, natural disasters or man-made threats. A decentralized grid relies upon an interconnection between many energy sources so that when one source fails, the others fill-in.
Financial advisors constantly tell their clients to diversify their portfolio to mitigate risk. The same theory applies to our electrical grid. The more we diversify the sources and locations of our electricity, the more reliable it becomes, and we become more resilient and less vulnerable to power outages.
Renewable energy like solar photovoltaics and energy storage are now feasible electrical solutions for homeowners and businesses and solar is now the least-expensive form of new electrical generation for Utilities. Wind turbines are another great form of electrical generation but typically needs to be situated away from population centers and remains dependent upon long-distance transmission lines.
With the digital age of communications, it is becoming easier to interconnect and control electronic systems.
Locally, Seattle City Light, (SCL) relies heavily upon our Washington's hydropower and long-distance power lines. Nuclear energy is another significant portion of SCL's energy mix, but again, it is reliant upon long distance transmission. Puget Sound Energy, another prominent local electricity provider relies upon coal-burned in Montana and transmitted across long-distance power lines for about 1/3 of it's energy mix.
Puget Sound Solar is working with SCL, Washington's Department of Commerce (DOC), and Seattle Parks Department (DPR) and we're installing a microgrid with solar and energy storage at Miller Community Center on East Capital Hill. Once completed, the microgrid will power Miller Community Center in case of a power outage and give local residents a place where they can seek shelter, heat, power electronics and seek refuge.
Microgrids are a way to mitigate the risk of misery, or worse as the climate crisis will bring us more frequent and severe weather events. The good news is that we have some solutions and their costs of decreased dramatically in the past decade.
If you're interested in learning how to use solar and energy storage to mitigate the risks to your home or business when the electricity goes out, please give us a call.